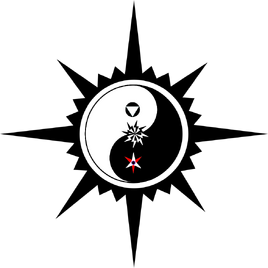 The Divine Cycle is an ancient belief that speaks of various systematic cycles that make up the universe and all life therein, including the idea that the forces of good and bad are in constant equilibrium. It is made up of a vast library of ancient texts left behind by the Ascendants and it is from these passages that Magic was discovered. The Divine Cycle was the basis of most philosophers as well as the center of religion of the Order.
The Divine Cycle is one of two pillars that make up the Divine Will. Together with the Divine Pass, it was left behind by the Ascendants and discovered by Surgicus, Panthea and Elysiar, eventually leading to the formation of the Order.
Composition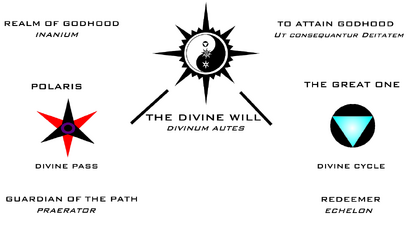 According to the many texts that make up the Cycle, every single process that occurs in life is part of a greater system, a metaphorical machine that ensures that the cycle of life never ends. Every process works together to continue the cycle. Each text speaks about a major category of processes that occur ranging from atomic, chemical, physical and mental changes through to formation of galaxies, life and corruption. This structure formed the base of the Order's education system and many devoted themselves to learning and mastering one category or another in the name of the Divine Cycle.
The texts were stored at the Divine Library and were managed by a group of librarians devoted to the text's protection and security. Only prophets and polymaths were allowed to access the texts. What happened to the texts after the Order's demise is unknown.
Prophecy
The Prophecy is a mysterious short text that was located in the Mantle. Its uniqueness stems from the fact that it is the only text in the entire collection to speak of a cataclysm or war extending from the use of the Cycle.
Fire and ice,
The prelude of judgement
The finale of life.

However the last breath
Not greeted by death
Prevails pure blood
Darkness,cleansed by holy flood.

Twins they are born
Prophecy burnt and scorned.
Unanticipated and preserved
By the father of life.

One holds the key to purity
The other, key to judgement
For he cannot accept atonement,
For the final battle, his brothers strife.

A battle of Biblical proportions,
Unparalleled evil against
The holy and the resurrection
Of seven warriors.
unrested, and armed
at the doors of death.

For they begin their journey
With fire and ice
The prelude of judgement
The finale of life.
Trivia
The Soul Wreaver has a rather complex knowledge on the texts, being able to quote them directly, leading to the belief that the Apocalyptar located and harvested the texts for knowledge.